EDUCATION
Collaboration with National Curriculum Development Centre
The project developed video resources for Children in collaboration with the National Curriculum Development Centre. Project teachers supported NCDC specialists to produce lessons for both TV and radio. The project also provided human resources and equipment to record TV and Radio lessons. These were uploaded on YouTube and shared on the NCDC website. CRANE provided Uganda sign language interpreters to ensure that the lessons are delivered with Uganda sign language interpretations.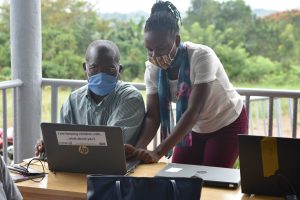 Virtual Teacher Training
50 Female, 21 Male learning support teachers were trained in developing Individualised Education Plans

Education is improving the lives of others and for leaving your community and world better than you found it.

MARIAN WRIGHT EDELMAN
Printing or Self-Study Resources for children
Over 13,000 self-study resources were printed. 1,000 copies of self-study resources for 7 classes in primary and 6 classes of secondary.
2,624 girls and 893 boys received resources from either a teacher or a mentor.
3,098 copies of primary and 7,122 copies of secondary self-study resources were given to the local governments.
Follow up of Child Protection Cases
56 emergency situations of girls of which 18 were cases of abuse.
Procurement of Tablets for girls to aid Remote Learning 223 tablets:
30 for pre-service teachers and 193 for girls in candidate classes (senior four and senior six)